Black Rose Wars: Crono (PVC Model)
CONTENTS: 1 huge Crono model (145 mm!), in PVC.
Please note that this is NOT the Crono whole expansion, but only the Crono miniature!
All models are in a 38mm scale, in line with the most modern games.
Below you can see our models compared to those of other popular games.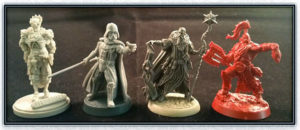 Here, you can get a better idea of the scale between the different models.